Taipei, Taiwan-June 24th 2021-Thermaltake, the leading PC DIY premium brand for Cooling, Gaming Gear, and Enthusiast Memory solutions, is excited to release a new power supply to the market – Toughpower TF1 1550W Titanium – TT Premium Edition. This is an extremely high-end power supply unit which comes in 1550W, and is specially designed for overlocking enthusiasts. The Toughpower TF1 1550W Titanium is dedicated to providing a better overclocking environment, hence, more additional features are added to enhance the stability. Firstly, there is a turbo fan button designed at the side of the PSU. The Turbo fan increases the airflow intake and ramps the fan up to 2400±10% RPM; users can simply switch on the button for additional cooling when the PSU is at full load. Secondly, a strict standard of the transient response is set with 12V < 1 %, 5V< 3%, and 3.3V < 5% to guarantee a constant output in response to load changes and avoids output voltage deviation causing damage to subsequent equipment malfunction. Thirdly, the inrush current is controlled to not exceed 50 Ampere making sure PSU components will not suffer from the massive power output. Additionally, a 12V OCP protection is covered to give extra support preventing the hard drives from malfunction and damage. Last but not least, there is an extra 24 pin jumper attached to provide electricity to the graphics card without connecting to the motherboard. The jumper brings more convenience and flexibility that users can configure the layout of their system in a desired way.

If you are looking for a PSU to support overclocking, Toughpower TF1 1550W Titanium – TT Premium Edition is there for you.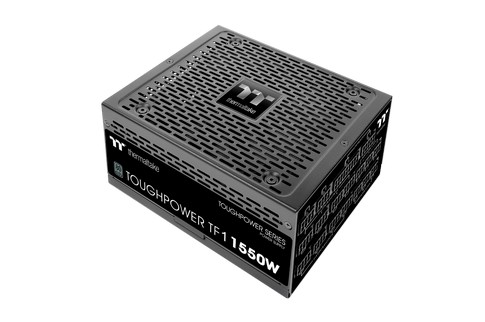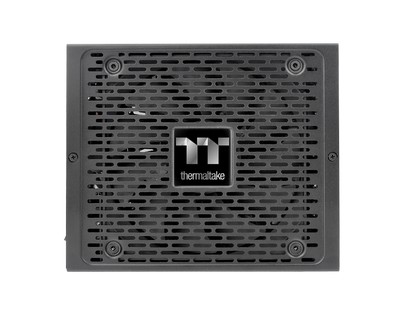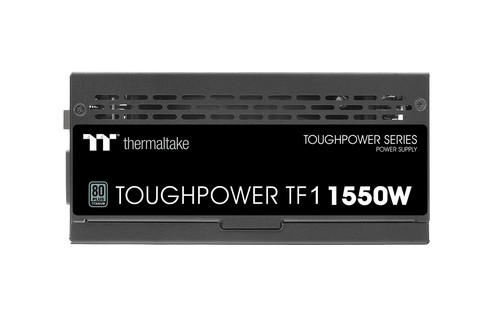 Features of the Thermaltake Toughpower TF1 1550W Titanium – TT Premium Edition:
Turbo Fan Button
The turbofan button is designed to add additional cooling when needed, maximizing airflow by increasing the fan speed to 2400±10% RPM cooling down the power supply when it's at full load. Users can easily push the button behind the PSU panel to switch the fan on.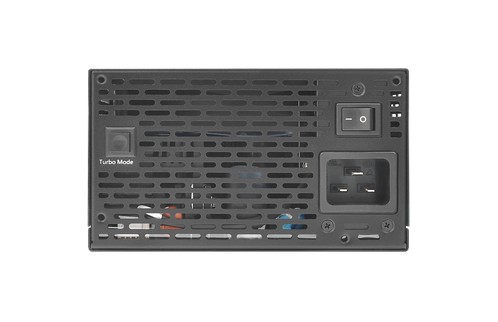 Low Transient Response
The transient response is a measure of how well the power source can hold its output constant in response to load changes. The results are kept within strict limits to comply with 12V < 1 %, 5V< 3%, and 3.3V < 5% to avoid PSU output voltage deviation causing subsequent equipment malfunction or even shut down.

Inrush current < 50 Ampere
Inrush current is the instantaneous high input current drawn by a power supply or electrical equipment at turn-on. This arises because of the high initial currents required to charge the capacitors, inductors, or transformers. The test results are under 50 Ampere to avoid damage to the PSU components.

Extra Jumper Accessory
An extra jumper is attached to provide power to the graphics card without connecting it to the motherboard. The extra jumper helps a lot if users need more than one power supply to power up their systems.

140mm Pulse Width Modulation Fan
A 140mm Pulse Width Modulation Fan with intelligent RPM controls is featured to guarantee superior cooling performance and near-silent operation.

<30mV Low Ripple Noise
All ripples are lower than 30mV on +12V, +5V or +3.3V from 0% to 100% load to ensure a stable operation and keeps your performance-critical components functioning more reliable for longer.

Extremely Strict Voltage Regulation < ±2%
The voltage regulation, stricter than Intel's standard ±5% for major rails and ±10% for -12V, is set to no more than ±2% for major rails to meet the highest performance.

Fully Modular Low-Profile Flat Cable
The modular cable selection includes Main Power Connector (24pin), ATX 12V (8/4+4pin), SATA (5pin), PCI-E (8/6+2pin), Peripheral (4pin) & FDD and FDD Adapters for users while powering the system at an advantageous voltage. The low-profile flat black cables make cable management easier, reduces clutter and increases airflow inside the chassis.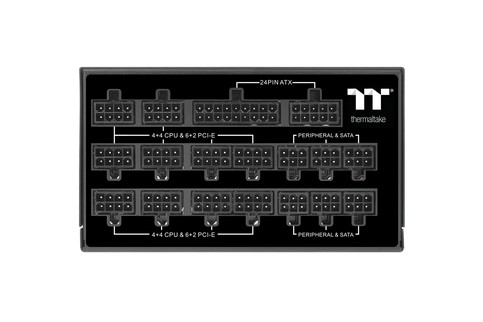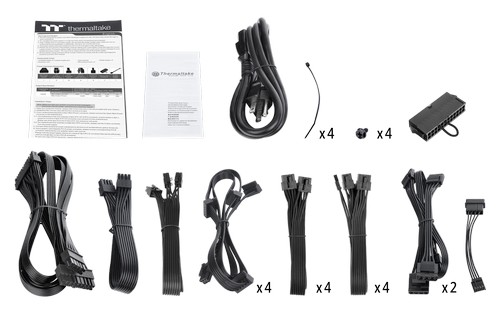 Premium Japanese 105°C/221°F Capacitors
Premium Japanese Capacitors provide great durability as well as offering the highest stability while remaining reliable.

High Amperage Single +12V Rail
Powerful single +12V rail ensures a stable and reliable supply to other PC components.

80 PLUS Platinum Certified and Intel C6/C7 States Ready
Toughpower TF1 Titanium 1550W saves energy through its high energy efficiency of up to 94% and is certified to 80 PLUS® Titanium. It has been optimized to work with all generations of Intel's processors to achieve maximum energy saving.

Availability, Warranty, and Pricing
Toughpower TF1 1550W Titanium – TT Premium Edition will be available for purchase on June 24th 2021 via the Thermaltake worldwide network of authorized retailers and distributors. It is backed by a ten-year warranty and supported by the Thermaltake worldwide customer service and technical support network. For up-to-date pricing of the power supplies, please refer to the Thermaltake website or contact your local Thermaltake sales or PR representative.

For more details on Toughpower TF1 1550W Titanium – TT Premium Edition, please visit:
https://www.thermaltake.com/toughpower-tf1-1550w-tt-premium-edition.html
Product video: https://www.youtube.com/watch?v=Bbneog3tvsU

Buy Links:
TT Premium USA–
https://www.ttpremium.com/product/toughpower-tf1-1550w-tt-premium-edition/

TT Premium EU–
https://ttpremium.eu/product/ps-tpd-1550fnfatx-1/

TT Premium ANZ–
https://ttpremium.com.au/toughpower-tf1-1550w-tt-premium-edition.html